Hinged vs. Sliding Wardrobe Doors
A Professional's Advice
Working for a fitted wardrobe company means this question is possibly more controversial and divisive for us than it is for our potential readers. However, it is one we are asked a lot here at Glide & Slide. While most of our customers go for the sliding doors option, there are many who prefer or consider the traditional hinged door. We'll be taking a look at both sliding and hinged doors, letting you know what we say to our customers and helping you to come to a decision once and for all.
Why choose Sliding Wardrobe doors
Sliding wardrobe doors are renowned for their space-saving, affordability, and lightweight qualities. This makes them the perfect door for a kid's bedroom or when you want to minimise the look of the wardrobe.
Space Saving
As sliding wardrobe doors do not open outwards, they provide a degree of space-saving. Things can be placed in front of certain panes without limiting access to the wardrobe contents. This is particularly useful in smaller spaces such as flats, guest rooms or utility areas.
Affordability
Often sliding wardrobe doors are cheaper than their hinged counterparts. This obviously depends on what sliding door you decide to install however, due to there being less components they tend to be cheaper. As sliding wardrobes are made of metal and plastic rather than wood, this affordability appears to be the case.
Light Weight
The plastic and metal materials used to build these wardrobe doors means they move easily through their tracks and fluidly. For you children this is particularly beneficial as it means they can access the wardrobe easily and with little chance of pain.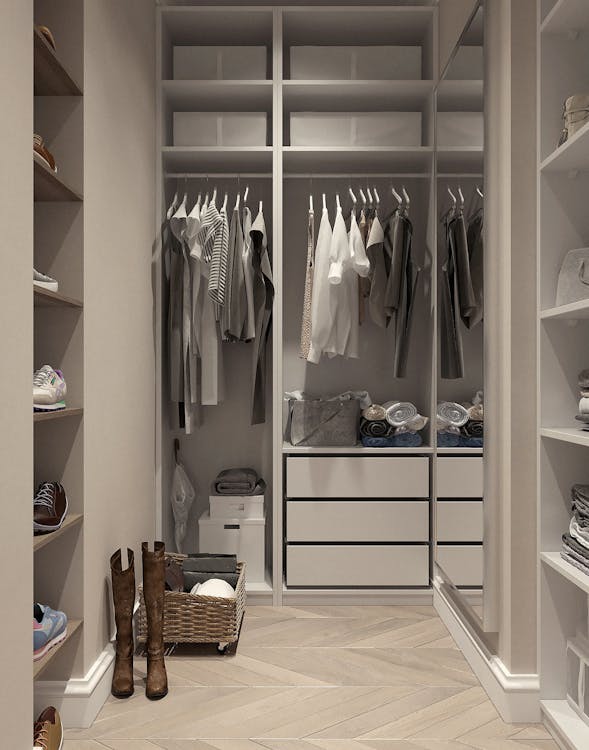 Why choose Hinged Wardrobe doors
Hinged wardrobes are easy to install, meaning the whole process is that little bit quicker, and there is extensive finish potential. We would argue that hinged wardrobe doors are more of a statement piece and it is important to keep this in mind when considering installing hinged doors.
Ease of Installation
The installation process for hinged doors is a lot easier as they only require a few screws and a set of hinges per door. In fact, it is not unheard of people taking their hinged doors from house to house because they have fallen in love with their doors. This is a lot simpler than taking a sliding wardrobe door from place to place.
Extensive Finish Potential
As most hinged wardrobe doors are made from wood, they can take a meticulous sanding and spraying routine. They are then cleaned and polished to your specifications and can be any colour you like.
Really, in conclusion, it comes down to personal preference, both of these options have their own benefits but differ in aesthetic. Both can look modern, both can look traditional but you may have already had an idea in your head. We do not want to tell our customers what they should or should not get, we want our customers to have their dream wardrobe and that means getting the doors you so desire.
To have a free consultation and quote about your dream wardrobe, contact us today.