Step By Step Measuring Instructions
Firstly you need to check how level your ceiling and floor are by using a spirit level. In instances where things aren't level it is advisable to use one of our liners and packers (Packers can be purchased from your local DIY store) to level things up.
If the height is over 2480mm you will need to build a drop down bulkhead, with timber and plaster. This will not cause any problems with your sliding doors as all our doors are bottom rolling therefore there is no load bearing on the ceiling.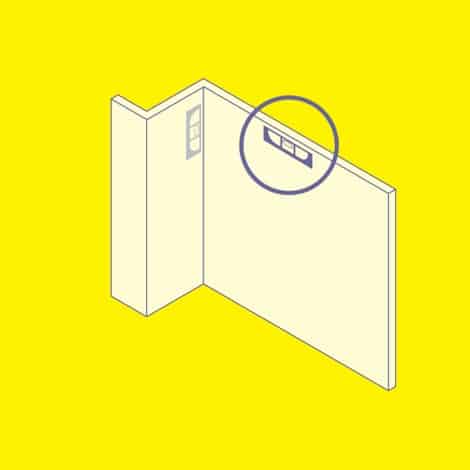 Step B
Measuring Ceiling to Floor
It is essential you measure the ceiling to floor in at least 3 different places, we suggest both ends and at the centre point. you must then advise us your smallest of these dimensions.
Our top track will allow for up to 10mm variance in heights.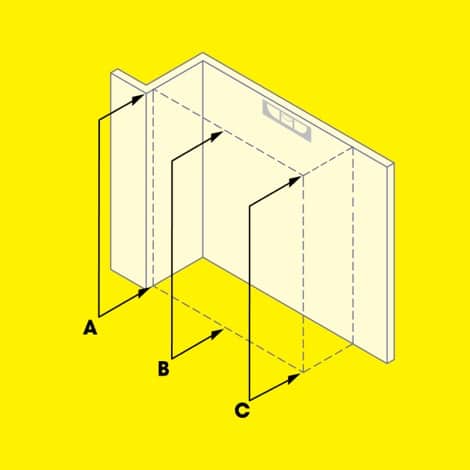 Using a spirit level ensure your walls are straight and level, if not we would suggest one of our liners and packers (Packers are available from your local DIY store) to level or plumb wall out.
Liners are available in various colours to suit your doors and can be added to your order on request.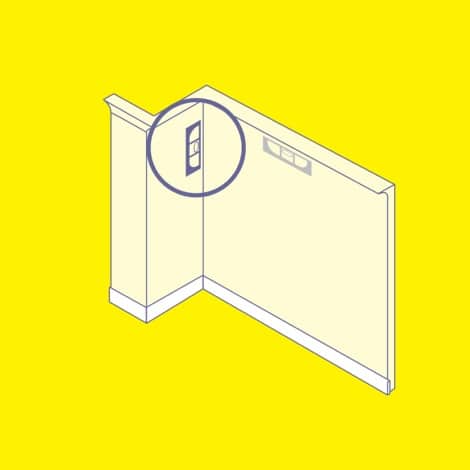 Step D
Measuring Wall to Wall
For instances where you have coving or skirting board you will need to cut out a section of each to allow the door to slide into this gap.
Measure wall to wall, both below the coving and above the skirting board, cut the section wide enough to accommodate the tracks.
We always supply both the top and bottom track over size to allow you to trim to your exact size.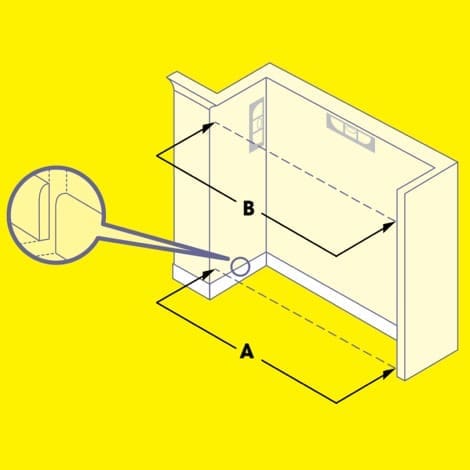 Step E
Measuring Wall to End Panel
If you require wall to end panel you must ensure you measure from the wall to the outside position of where the end panel will be situated.
If you have coving or skirting board remember you will need to cut a section to accommodate tracks (Refer to Wall to Wall for details).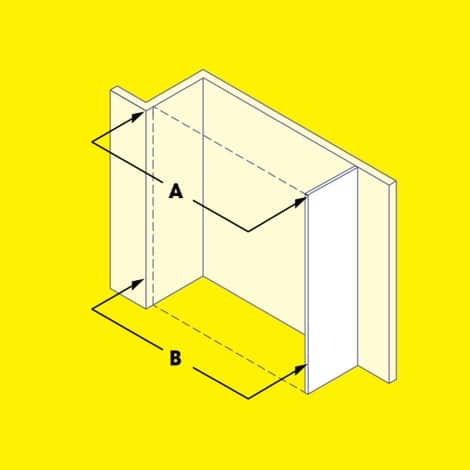 Step F
Measuring End Panel to End Panel
In instances where you require end panel to end panel please ensure you measure outside to outside of where the end panels are to be situated and advise us this total opening width. We recommend measuring in two places, refer to diagram.
Do not take anything off the measurements as we will adjust/deduct for the two end panels and produce doors to this size.