BUILT-IN FITTED WARDROBE INSTALLATION
Built-in Wardrobe systems are a fantastic way to increase space in your room and give your house a stylish feel. Built to limit wasted space by utilising the area from floor to ceiling, your made-to-measure wardrobe will always improve the look of a room.
Freestanding wardrobes are a commonly used option for storing clothing in bedrooms and dressing rooms but do take up a substantial amount of room. A room can feel cramped and cluttered with such a large free-standing piece of furniture as a focal point.
Build Your Own Fitted Wardrobe
A fitted wardrobe maximises the space available in a room by utilising the area from floor to ceiling with no gaps. It limits wasted space and offers a clean, stylish and functional option to a room, whether big or small. Your room can appear more streamline and aesthetically pleasing with the use of made to measure fitted wardrobes.
Hinged doors for fitted wardrobes are also a popular choice. We recommend hinged doors on a fitted wardrobe for those who want easy access to all parts of their wardrobe space and have floor space for the doors to open outwards. We specialise in sliding wardrobes to fully maximise the space available by reducing the amount of floor space required due to the use of sliding instead of hinged doors.
There are a few fantastic adjustable options for storage within a fitted wardrobe that can be tailor-made to suit your needs. Some may prefer additional space for shoe racks, drawers for jewellery or space for suits. Others may want several deeper drawers for folded jumpers and jeans.
There are a plethora of design options, colours, mirrors, glass, patterns and finishes to choose from that truly make your fitted wardrobes a signature piece of the style and theme of your bedroom.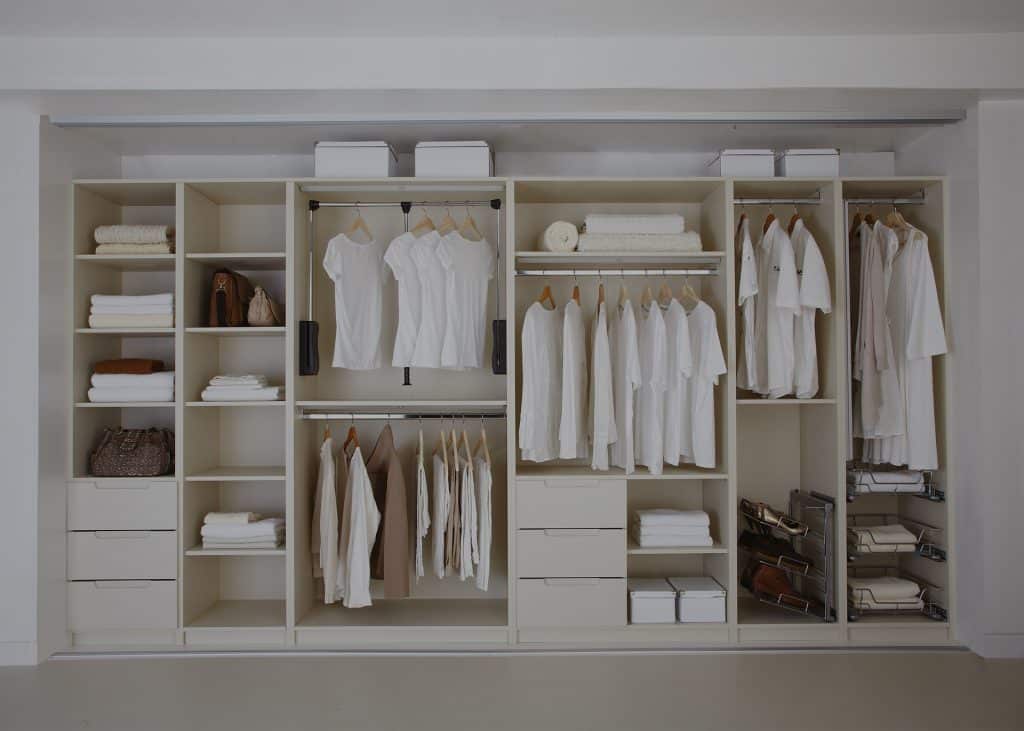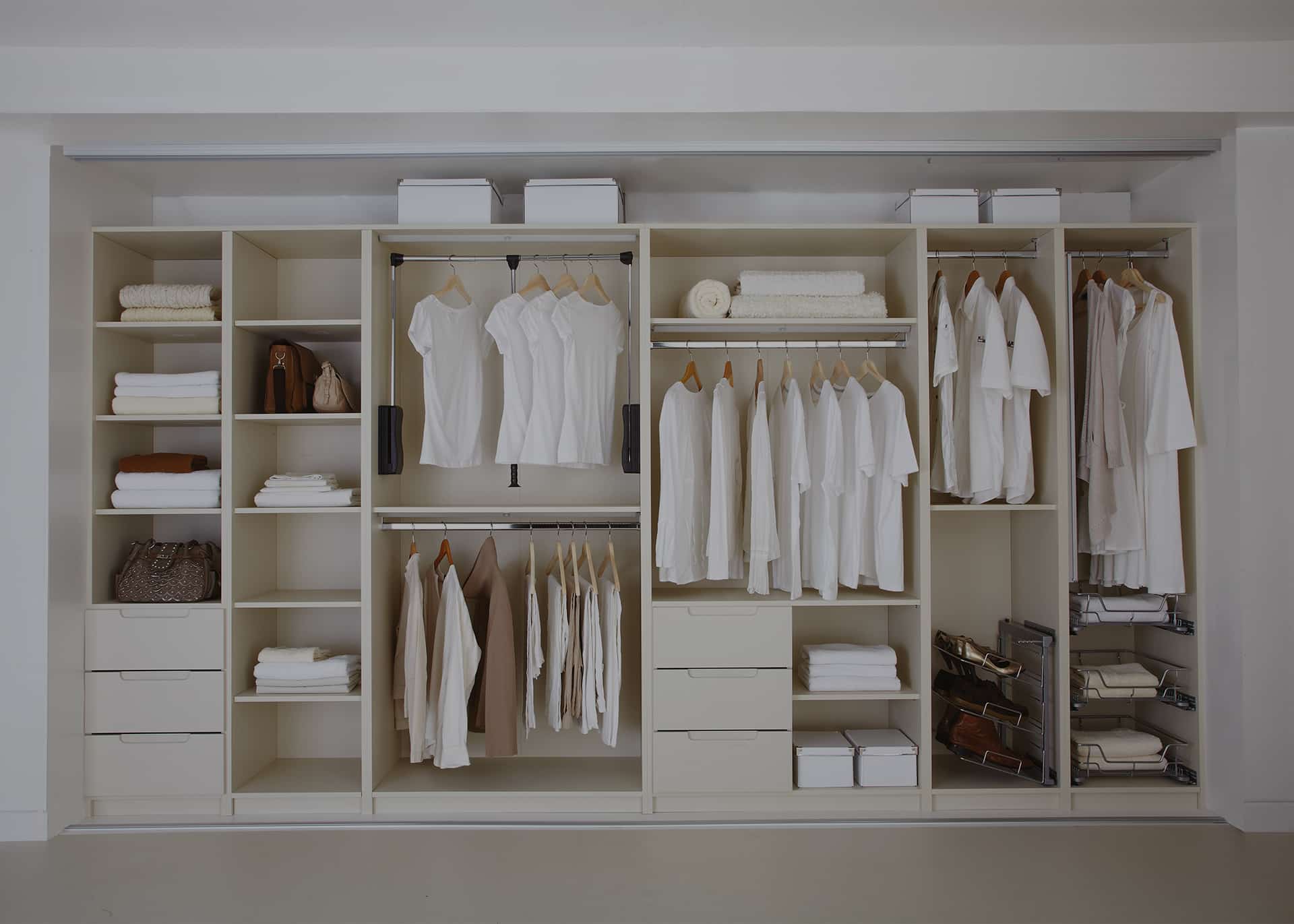 WARDROBE WITH SLIDING OR FITTED DOORS?
We offer a number of doors at Glide & Slide, both sliding and hinged. The sliding door is great for those with limited floor space as there is little space required in front of the wardrobe; the doors slide, on a track system, left to right. Hinged doors however do require a bit of space in front of the wardrobe; these are best for those who want easy access to all parts of their wardrobe but have the capacity to open the doors into the room.
In the past, there have been a limited number of design options for wardrobes and some may have considered them stark and plain but that is no longer the case. Here at Glide & Slide, a range of design options, colours, mirrors, glass, patterns and finishes to choose from that truly make your fitted wardrobes a signature piece of the style and theme of your bedroom.
Our custom made sliding wardrobes are manufactured in our UK workshop and our glass options range from brilliant-cut to etched, silver lacquered and floral printed glass. There is a wide range of made to measure fitted wardrobes to choose from at Glide & Slide with various colours and frame options to match the décor of your room, adding elegance and sophistication with practicality.
In addition to made to measure fitted wardrobes, we also offer a variety of modern bedroom furniture that perfectly accompanies the wardrobe ranges available. Shelving towers and drawers are a great addition to fitted wardrobes and offer additional space-saving options.
5 Benefits of Fitted Wardrobes
Space

Fit the full height and width of the space available

Price

Various price ranges available to suit your budget.

Aesthetic

Complement the interior of your room with a wide choice of styles.

Tidy

Due to size and space of fitted wardrobes, items of clothing, shoes, jewellery can neatly be hidden away!

Investment

If you move home it is unlikely you will take your bespoke fitted wardrobes with you but see it as an investment! Homebuyers place a premium on storage space.
Wardrobe Doors & Interiors
WHY INVEST IN A BUILT-IN WARDROBE SYSTEM?
Probably the most common reason for installing a fitted wardrobe is the improved efficiency, both in space and day to day life. A mirrored sliding wardrobe uses space more efficiently than a free-standing wardrobe as it is built to fit the room it is in. Not only this, but mirrored doors also offer the added benefit of making a small, tight space seem a lot wider.
If mirrored wardrobe doors aren't quite for you, that's not an issue as bespoke built-in wardrobes can be customised to suit your style and décor. If you'd prefer something more traditional or something contemporary like frosted glass, that can all be arranged as fitted wardrobes are built with you and your tastes in mind.
As for the day-to-day improvements, a fitted wardrobe is structured to fit your clothes and other items keeping your bedroom organised. Built-in wardrobes have also been shown to reduce allergies as dust cannot collect on top as it can with a free-standing wardrobe. Your life will be much improved with more organisation and less sneezing!
In addition to the many benefits highlighted above, installing a fitted wardrobe is a financial investment as it adds significant value to your property. Although selling your house is probably the last thing on your mind if you're thinking of purchasing a fitted wardrobe, However, if the cost is scaring you a bit, just remember that this will more than be paid for as it adds further value to your property.
HOW WILL MY WARDROBE BE INSTALLED?
The installation process starts with you designing a fitted wardrobe online and sending us the order or calling in our team of designers to come to your home and listen to your design ideas. You will then work closely with our designers to decide on the perfect wardrobe. When you've got your heart set on a design our talented installation team will fit the built-in wardrobe leaving you with your bespoke masterpiece.
HOW MUCH WILL MY FITTED WARDROBE COST?
Here at Glide and Slide, we understand how important price is when deciding to purchase a built-in wardrobe. We also understand that a lot of households are very busy and don't have time to box a free consultation to decide the price. That's why we've created a wardrobe configurator where you can get a rough estimate of overall cost by answering a set of questions. Our software also allows you to see a sketch of the wardrobe before purchasing. To determine the cost of installing a built-in wardrobe, try out our design-your-own-wardrobe feature.
WHY CHOOSE GLIDE & SLIDE?
As a company with many years of wardrobe fitting experience, you can guarantee the following things when you choose Glide & Slide:
Customer Support from initial enquiry to after installation evaluation
CAD Design used to bring to life your dream wardrobe
Constant communication throughout the manufacturing process to ensure you are happy
Products can be self or professionally installed – your choice!
Knowledgable Staff are always on hand to offer industry advice and guidance
Finally, a 5 Year Product Warranty
Create your dream space with Glide & Slides range of products that are bespoke and made to measure. With over 30 years experience and a 5-year warranty on our product range.
Once your furniture has been assembled and installed, one of our experienced sales representatives will visit you to ensure everything has been carried out as agreed.
For more information on how we can help transform your bedroom contact Glide & Slide on 01543 679 202 or email us at info@glideandslide.co.uk.