Sliding doors | Hinged doors
A fitted wardrobe maximises the space available in a room by utilising the area from floor to ceiling with no gaps. It limits wasted space and offers a clean, stylish and functional option to a room, whether big or small.
There are a number of options to choose from with a fitted wardrobe design. For those with limited floor space, a sliding door fitted wardrobe may be beneficial as no space is required in front of the wardrobe to open the doors. Doors simply slide from left to right on a track system.
Hinged doors for fitted wardrobes are also a popular choice. We recommend hinged doors on a fitted wardrobe for those who want easy access to all parts of their wardrobe space and have floor space for the doors to open outwards.
There a number of fantastic adjustable options for storage within a fitted wardrobe that can be tailor-made to suit your needs. Some may prefer additional space for shoe racks, drawers for jewellery or space for suits. Others may want a number of deeper drawers for folded jumpers and jeans.
In the past, there has been a limited number of design options for fitted wardrobes and some may have considered them stark and plain but that is no longer the case.
There are a plethora of design options, colours, mirrors, glass, patterns and finishes to choose from that truly make your fitted wardrobes a signature piece of the style and theme of your bedroom.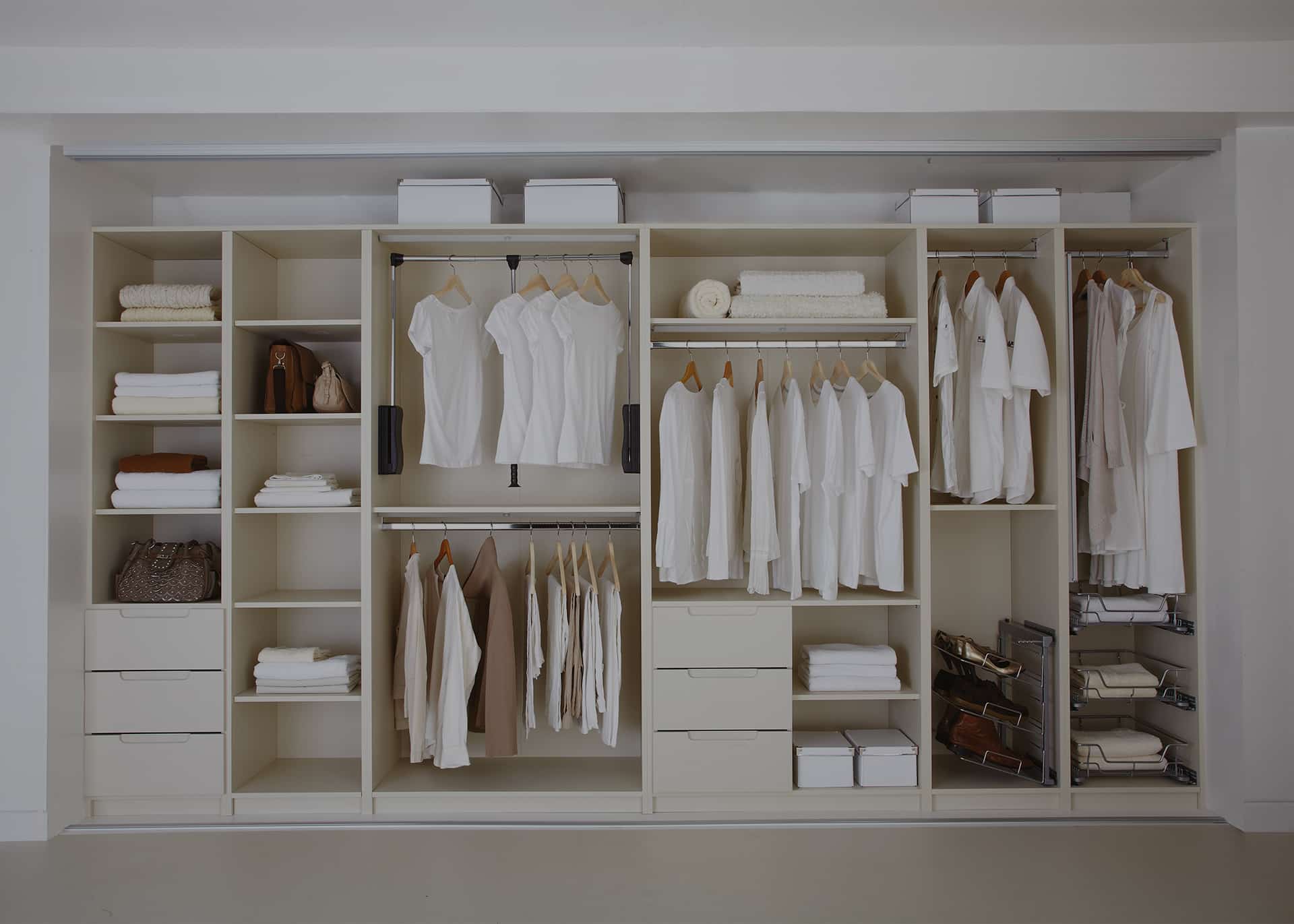 5 Benefits of Fitted Wardrobes
Space

Fit the full height and width of the space available

Price

Various price ranges available to suit your budget.

Aesthetic

Complement the interior of your room with a wide choice of styles.

Tidy

Due to size and space of fitted wardrobes, items of clothing, shoes, jewellery can neatly be hidden away!

Investment

If you move home it is unlikely you will take your bespoke fitted wardrobes with you but see it as an investment! Homebuyers place a premium on storage space.
Book a free appointment with our design team today!