Made to measure fitted wardrobes
Designed and Manfactured for you
Freestanding wardrobes are a commonly used option for storing clothing in bedrooms and dressing rooms but do take up a substantial amount of room. A room can feel cramped and cluttered with such a large free-standing piece of furniture as a focal point.
Made to measure fitted wardrobes from Glide & Slide are designed and manufactured to fit perfectly within the space available, limiting wasted space and dominance. Your room can appear more streamline and aesthetically pleasing with the use of made to measure fitted wardrobes.
We specialise in sliding wardrobes to fully maximise the space available by reducing the amount of floor space required due to the use of a sliding instead of hinged doors.
Our custom made sliding wardrobes are manufactured in our UK workshop and our glass options range from brilliant-cut to etched, silver lacquered and floral printed glass.
There is a wide range of made to measure fitted wardrobes to choose from at Glide & Slide with various colours and frame options to match the décor of your room, adding elegance and sophistication with practicality.
Create your dream space with Glide & Slides range of products that are bespoke and made to measure. With over 30 years' experience and a 5-year warranty on our product range.
In addition to made to measure fitted wardrobes, we also offer a variety of modern bedroom furniture that perfectly accompanies the wardrobe ranges available. Shelving towers and drawers are a great addition to fitted wardrobes and offer additional space-saving options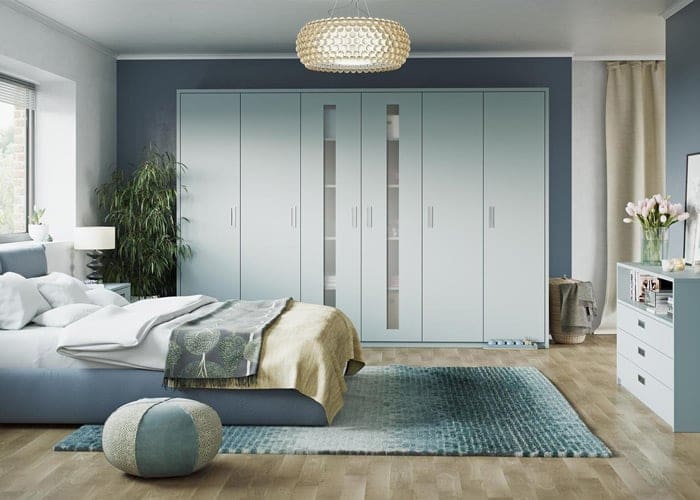 Once your furniture has been assembled and installed, one of our experienced sales representatives will visit you to ensure everything has been carried out as agreed.
For more information on how we can help transform your bedroom contact Glide & Slide on 01543 679 202 or email us on info@glideandslide.co.uk.